---
---
Bayern Munich are one of football's biggest clubs. They have enjoyed success after success in their one-hundred-and-fourteen year history and are currently in one of their brightest eras of that time. Pep Guardiola, now in his second season at the club is regarded as the best manager on the planet today and is in the process of taking the club to new heights. At times during reading this piece you may think I am reading too far between the lines or being over analytical, which may be the case, however just like with the Shakespeare's of literature, the Tarantino's of film, and the Mozart's of music, if you find something which seems like genius-Pep probably meant it. You don't have to read the whole thing at once, but I would invite you to try to look at some of the ways Guardiola uses his team to create space when attacking, and limit space when defending  and to give you a flavour of how one of world  football's greatest forces play.
Match 1: Wolfsburg at home
Nine days after a disappointing 2-0 defeat to Borussia Dortmund in the Super Cup, Bayern faced Wolfsburg at the Allianz Arena on the opening day of the Bundesliga. Bayern set up with a 3-4-1-2 formation meaning Robben, on paper, playing as a wingback but in reality stationed himself further up the pitch more of the time which was testament to Pep's trust in Lahm who was playing on the right side of the defensive three facing De Brunye and Rodriguez, probably Wolfsburg"s two best players.

Bayern played with a fluidity in defence to be able to maintain their pressing in every area of the field to allow Wolfsburg's players as little time on the ball as possible.
Above we see Badstuber in the blue leaving the defensive line to press De Bruyne. Alaba drops from midfield to cover his position therefore leaving no gaps in defence but having constant pressure on the ball. Bayern often had a back four in the defensive phase with Bernat tracking back to mark a zone that could be exploited by Wolfsburg's right  winger. Contrary to popular belief, Bayern do play vertically a lot of the time as a mechanism to get the ball into the final third.
One of Gotze's main jobs in the team is to drift to the side where the ball is to create overloads. Above, we can see him between the LCB and LB. Rodriguez, the Wolfsburg LB will obviously see Lahm as more of an immediate danger as he is further infield so moves across to mark him, leaving space of Robben to receive Badstuber's long ball. Bayern use this 3 vs 2 overload a lot.
Above, Robben is on the ball on the right flank and Muller (blue circle)-who has a roaming role within the Bayern attack, moves into the halfspace*, causing Wolfsburg's LCB to move over leaving Gotze in space in a dangerous area. Also, notice Lewandowski's positioning on the RCB- meaning Gotze is left unmarked. *When I mention halfspace I'm using the direct German to English translation of Halbraum, which describes the 2nd and 4th of five vertical sectors running up the pitch. 
Alaba playing in deep midfield increases the fluidity of Bayern's system.
Here, Bernat can go as high up the field as he likes to offer width and stretch the Wolfsburg defence, when Wolfsburg break, Alaba slides over to cover his natural left-back position and halt the Wolfsburg breakaway. Bayern try to commit as many men forward as possible.
Here, we can see Bayern have created a 4v4 situation on the defensvie line. This means any further runners will have to be picked up by midfield players and often will be free, also it stops defenders being able to press because they will be unwilling to leave their markers. Also, a 4v4 means that a through ball can be played without a covering defender clearing it as all defenders are marking, and therefore cannot cover. To be able to commit so many men forward, Bayern obviously have to compensate with fewer men at the back. However Pep knows that most teams coming to the Allianz will put ten men behind the ball so he must resort to more innovative methods to create spaces and therefore chances. Wolfsburg did try to press Bayern and confined Bayern to only 56% possession throughout the match. Despite this, Wolfsburg never had many men in front of the ball so found the transition into attack difficult. Arjen Robben is  Bayern's most dangerous attacking force however often finds it difficult against packed defences like in the Champions League vs Manchester United and Real Madrid last season.
Above, circled in red he drops fairly deep, in between the lines during the buildup phase. Wolfsburg, who played a relatively high line throughout the match were entised forward. As the ball is played out to Lahm (blue) and Rodriguez  goes to close Lahm, Robben darts into the space left by Rodriguez. Lahm plays a ball to Robben, who finds Muller for Bayern's opener. In the defensive phase, Bayern often took up a 4-3-3 shape with Bernat coming back as we have already seen.
4-3-3 is obviously the shape the Pep used at Barca, as well as the formation Rinus Michels used during the Totalvoetball period in the 1970s that Guardiola emulated at Barcelona. In Michels' 4-3-3 a central defender stepped out to make as 3-4-3 in attack. Pep is doing the same thing here instead its a wingback, Bernat, who drops to make it a 4-3-3 in defence and who springs out to make a 3-4-3 in attack. Furthermore, Lahm often positions himself high up the pitch to create a 2-4-3-1 . Pressing has always been a large part of Guardiola's teams. Above, we can see Robben and Muller beginning to approach the ball from either side. We can also see Alaba, in the middle of the midfield three, beginning to run towards the man with the ball. This three-way pincer movement gives the man on the ball nowhere to goal and he loses the ball. Below, we see how rapid Bayern were in transition from winning the ball. Robben on the ball already has Lewandowski ahead to his right and Muller racing up the pitch on his left. Bayern go 2-0 up.
This willingness to aggressively press and counter attack quickly remains from Jupp Heynckes' Champions League winning side of 2013. This shows the versatility of this Bayern side and that Guardiola isn't all about recycling play and building slowly from the back-something he is sometimes criticised for. Wolfsburg made it 2-1 and Bayern looked pretty tentative late on.
Above we can see that they were so desperate to hold onto their lead that they invited Wolfsburg pressure and moved Alaba back into the centre of defence to make a back five. Also, notice Robben high up the pitch, wide, ready to spring into action if Bayern win the ball and there is an opportunity to counter. Louis Van Gaal used Robben in this way frequently during the World Cup, most notably in Holland's opening match vs Spain. This is a good plan B for Bayern.
Above is an example of when Robben was left up when Bayern had their backs to the wall and successfully managed to counter attack, producing a shot on goal.
Areas of weakness
Wolfsburg did trouble Bayern at times, scoring a goal in the process. This was due as much to the players being a bit rusty in the first league match of the season as it was to tactics.
A long diagonal ball to wide areas stretched Bayern. Here, we can see Lahm going out to close down Arnold, who received the long ball has left a big gap between him and Dante. Also, Bernat is too high up the pitch and leaves a big gap between him and Badstuber, as well as being the wrong side of Adje(far blue circle). Olic has also managed to get the wrong side of Badstuber(other blue circle). Bernat is only twenty one and isn't really a naturally defensive player, this could be a possible area to exploit for future teams. Adje bursts through the channel and should make it 2-2. A let off for Bayern.
Again, we can see a long diagonal ball to Caligiuri who beats an isolated Lahm and manages to get off a shot. Again, we can see in the blue circle that Bayern are not prepared for these kind of balls with Olic the wrong side of Badstuber again.
Above, we can see how Bayern can be vulnerable from crosses because of Lahm's lack of height. Dante and Alaba are double-marking Olic whilst Lahm is being towered over by Caligiuri who wins the header. It also shows that playing a flat back five doesn't make them harmless.
Match 2: Schalke away
Next up was a trip to the Veltins arena to face a Schalke side who had just come off the back of three consecutive 2-1 defeats in all competitions. Schalke seemed happy to sit back and allow the Bavarians 69% of possession, thirteen percent more than they had enjoyed last time. Pep decided to line up in more of a 4-2-3-1 this time with Alaba and Lahm reverting back to their natural full-back roles.  This match saw the introduction of Xabi Alonso, who goes on to become a key player for Bayern, perhaps their most important. Shaqiri replaced Robben who was ruled out with an ankle injury.
Schalke played a relatively high line so Bayern used long balls to create chances again.
Here, we can see Bayern playing a ball over the top of Schalke's high defensive line to Lewandowski, circled white. This tactic is more effective this year as Lewandowski up front has more pace than their forward option last year, Mario Mandzukic. Above, he receives a long ball and sets up a Thomas Muller shot on goal. The addition of Alonso allows Bayern to play longer balls more often with greater accuracy. Schalke played extremely  narrowly to try to make sure there was no space in dangerous, central areas.
Above, we can see the narrow Schalke defence. The Alonso-Rode double pivot, highlighted in white, tried to spread the ball as wide as possible to the full-backs, Lahm and Alaba in an attempt to stretch Schalke's back four and find away in behind. Soon enough, Schalke saw this  constant threat and dropped deeper-meaning Bayern had to revert to conventional Guardiola methods of finding an opening on the edge of the area with short, quick passing.
In the first picture we can see Rode with the ball in the halfspace being pressed. Halfspace play is a huge part of Guardiola's game and creating space in the halfspace is important. Notice the positioning of Lewandowski and Muller on both CBs-creating a fairly large gap between them. A Rode one-two with Muller, and then again with Lewandowski-  allows Rode to make his way into the dangerous area and receive the ball to set up a Lewandowski goal. Rode adds this extra penetration which isn't really part of Gaudino's game, as we saw vs Wolfsburg. Rode adds more balance to the team with Alonso also in the side as Alonso tends to sit back whilst Rode is capable of linking up play on the edge of the opposition's area. Bayern continued to press when in deep positions whilst trying to maintain their back four shape.
Above we can see Bayern dropping as a back four as Schalke move forward. As soon as Draxler stops moving forward on the ball- the defensive line stops dropping and press to get the ball back. In the bottom image we can see Boateng leaving the defensive line to press Draxler while Alonso drops back to cover his position. Boateng's press is triggered by Draxler cutting inside which is a lesson learnt from Wolfsburg as Wolfsburg got many shooting opportunities from cutting inside of Lahm. Alonso is deployed by Pep as a classic 'regista'. A new type of player to Bayern, and the Bundesliga.
In typical regista fashion, Alonso drops between his CBs during the first buildup phases. This can serve two purposes; firstly, It means the fullbacks are given licence to get forward as it doesn't leave huge gaps at the back, and secondly it gives Alonso more time on the ball to turn and pick a pass without being restricted in a tight midfield area. If you read my article on types of midfielder,  it features a quote from Andrea Pirlo's autobiography that explains this deep positioning. " "If the sea's deep, a fish can breathe. If you put him just under the surface, he'll get by, but it's not quite the same thing." 
Unlike Pirlo, Alonso has more of a defensive side which was a big part of his role at Liverpool. This makes him perfect for this role as we can see above, Bayern lose the ball however Alonso uses his tackling ability to win the ball back with Schalke in a dangerous attacking position. This position in between the centre-backs isn't exclusive to Alonso-here's Rode taking up this position.
Also, notice Muller here. He moves beyond the defensive line and pushes Howedes back behind the line, leaving a big gap behind the defense where Bayern players would remain onside. Howedes drops as he would need the extra yards on Muller if a ball was played over the top to Muller. Also, notice the gap in the halfspace created with Muller fairly wide, pulling Howedes wide. Bayern obviously need to maintain a very high line to be able to squeeze opponents to the extent Pep requires.
Above, Schalke manage to wriggle out of a Bayern attempt to box them in the corner. This high press causes the line to push up accordingly with Badstuber being the furthest back of Bayern's outfield players.
However, this obviously isn't a problem with Manuel Neuer in goal. Above we can see the sweeper keeper of 'false one' rushing out to clear the danger. We've already established that getting the ball into the halfspace is an important part of Bayern's attacking play. Wide overloads are the best way to do this.
Above we see Shaqiri hugging the touchline and an advanced Lahm in between the Schalke defensive and midfield lines. Howedes would normally be able to stay tight to a player in this zone however he has to keep an eye on both Lahm and Shaqiri so can't get tight on either. Muller and his roaming position is key to creating this overload as he moves into a position where Matip has to mark him and cannot shuffle across to help out Howedes. Howedes not being able to go tight is important because when Lahm receives the pass, he has time to turn and run at the Schalke defence. This is one of my favourite methods of how Bayern create space in the final third. Overlaps have been an integral part of Bayern's attacking play over the last few years and that's no different this term.
Overlaps are the best way of getting the ball into the danger zone-circled white. Here, Bernat feeds Alaba's overlapping run. When a fullback has the ball at feet in the white circle, the defense drops, leaving space in front of the defence for cutbacks to midfield runners-chances are created. Bayern moved into a 4-1-4-1 later on in the game to try to stretch the Schalke defence and give more width for crosses. This shows the flexibility of Bayern's systems. Bayern are still a dangerous side when counter attacking with many pacy players and clever movements.
Bernat makes an infield run taking a Schalke defender with him and opening up space on the left for Shaqiri to run into, receive a pass and get a shot on target.
Areas of Weakness
They say "goals change games" and this was certainly the case in this match as, similarly to the Wolfsburg game, Bayern invited pressure and looked vulnerable after going 1-0 up-especially after half-time. This can be a problem that cost Liverpool the Premier League title last season. Schalke scored in the 62nd minute which coincided with Dante coming on for Boateng two minuted previously. Dante doesn't have the pace of Boateng to chase long balls played over the top of Bayern's high line. Dante is probably Bayern's best defender in the air but in my opinion, that's his only strength and he is not a very intelligent defender. Furthermore, they had no real 'Plan B' when Schalke did level. Most of their play in the last fifteen minutes was hopeful crosses into the box from Alaba. They ran out of ideas and sometimes looked panicky and desperate to score which was maybe due to the average age of the team decreasing with substitutions with Bernat, Hojberg, Rode and Shaqiri all being on the pitch at the end of the game. Bayern obviously had, and continue to have big midfield injury problems with Schweinsteiger, Martinez and Thiago all unavailable. This may be why they only managed to register 3 shots on target all match despite having 68% possession. Also, Bayern looked uneasy in the last quarter of the match when it was a lot more end-to-end which is obviously juxtaposed to Jupp Heynckes team which was all about counter attacking and beating other teams due to the speed of their transitions. Nevertheless, a draw away to last season's third placed team isn't a bad result whatsoever and Bayern had many positives to take from this game early on in the season.
Match 3:Stuttgart at home
Back to the Allianz to face a Stuttgart side who had only managed one point from their first two matches. Pep chose to field a full strength side despite having a challenging match coming up midweek against Manchester City. He went all totalvoetbal on us playing a 4-3-3/4-1-2-3 formation with the front three of Muller, Gotze and Lewandowski interchanging positions.
Bayern used the same methods as they had done previously to create space from long, diagonal balls wide.
Above we can see this 3 vs 2 overload being used again with Muller and Lewandowski shuffling across to position themselves on the LB and LCB in between the lines.
As Badstuber's long ball finds Boateng wide, Sakai goes to close Boateng down leaving Muller with loads of room in the halfspace. Gotze is one of Bayern's key players used to create space.
Above we can see Gotze's clever decoy run to take the Stuttgart defender out of position-leaving a gap for Muller to run through with the ball after playing a one-two with Lewandowski. The key to creating space is constant movement,short passes, one-twos which is shown here perfectly. The key to this constant movement and opening up of space is extreme fluidity throughout the system.
We can see how Lewandowski has dropped very deep to link up play in the buildup. Also, Alaba is pushed very far forward which also shows this fluidity and how Pep demands his players to be complete footballers and be able to play all over the pitch to fit into this fluid system. A benefit of this fluidity was shown in the 43rd minute when Badstuber went off with injury. Instead of having to bring on Benatia, Pep brought on Gaudino, moved Boateng to CB and Lahm to RB. When Bayern take the lead it gives the opposition a conundrum. Do they venture forward and try to get an equalizer or sit back and hope for a lucky break late on? Neither option is ideal, especially the former as a rapid defence to attack transition is a big part of Bayern's game.
 When the opposition is attacking-Bayern always have a forward hugging the touchline. This is because it offers greater width in transition so the attacker has more space to run into and there is more space to play a ball through rather than the forward being in the middle of the pitch, having to hold up play and therefore decreasing the danger of the attack. Also, when the ball is played wide, it stretches a depleted defence back tracking towards their own goal which can create all sorts of havoc. Above, Alaba wins the ball and turns immediately-finding Lewandowski who has space to run into. As with trying to break down a deep defence, movement to create space is key.
Above we can see Muller's run over to the side of the ball to create a huge amount of space of Ribery to run into, be found with a Lewandowski pass and make it 2-0. Game over. Bayern' counter pressing serves two purposes:firstly, to stop the opposition from being able to build an attack directly after they have won the ball back and secondly, to win the ball back in areas of the pitch that would hurt the opposition as it is close to their goal and their defenders may be in awkward positions.
A slow pass to Romeu gives the trigger for Alaba to press the ball shortly after Bayern lose it,but come from an angle to block the forward pass.
Romeu loses the ball which finds itself at Muller's feet. Already, stretching the defence begins as quick transition is the key-Lewandowski moves wide.
The Stuttgart defender misses the tackle as the ball is played to Lewandowski. Notice how Alaba(Red circle) has chosen to stay on the last line despite not attempting to make any sort of run to receive a pass. This is to simply maintain the overload by meaning the Stuttgart RB, Klein has to mark him.
This means Ribery has a large area to make his late run into, and a lot of time on the ball when he receives Lewandowski's pass. A goal scoring opportunity is created. Bayern were getting nearer to full flow in this fixture and had very little problems at the back as they didn't concede a single shot on target. Ribery returning to form was also a big plus for Guardiola.
Match 4: Manchester City at home
A repeat of last year's Champions League group stage fixture was going to be a challenging fixture for both sides, the most challenging so far of the season by a long way. Bayern started again with a 4-3-3. With Rafinha returning to the side as well as Medhi Benatia making his debut next to Jerome Boateng in the centre of Munich's defence.
Bayern's main scope of attack in the match was low crosses from wide areas. Bayern made a total of twenty five crosses throughout the match-compared to just nine against Stuttgart. This meant they needed to create space wide.
Above we can see Rafinha underlapping a very wide Muller and moving with the ball into the channel between Clichy and Demichelis. This causes Clichy to narrow to block the halfspace.
This leaves Muller in lots of space and a prime crossing position when he receives the ball. Lahm's role in his midfield position alongside Alonso doesn't change much from his role at right-back. He still makes runs forward with the ball to create space.
In the first Image, Lahm is running forward with the ball in the halfspace. Toure, Demichelis and Clichy are all looking at the ball and Toure is brought out of position because of Lahm. Muller's clever run behind Lahm and Lahm's subsequent pass to Muller gives Muller the ball with space in front of him as Toure has vacated his zone. Bayern remained very committed in their counter pressing as they knew the dangers of Manchester City on the break with Silva, Nasri and Navas in particular.
Here, Bayern have seven players in the final third of the pitch despite Man City having possession. The image shows Alonso pressing Silva from behind and restricting his ability to turn. Pep obviously acknowledged that Silva's creativity was City's biggest threat. Bayern try to position themselves as wide as possible to stretch the opposition.
Bernat is positioned on the touchline on the left whilst Alaba is in the halfspace. This means Sagna, as shown, must focus on Bernat and therefore is not tight to Alaba when he receives the pass. This gives Alaba space and time to turn and cause a threat.
Above we can see how Gotze positioned himself just off Lewandoski waiting for Kompany to get sucked in to Alaba, which is what he does. This means Demichelis now has to watch Gotze and Lewandowski, leaving them both in space. As I have already mentioned, Bayerns game vs City was more crossing orientated so they were trying to create space in the 1st and 5th vertical fifths of the pitch, rather than the 2nd and 4th that they use in their usual halfspace game.
Here, Lewandowski, Muller and Gotze are very narrow in the centre. This is to create more confusion when the cross comes into the box and increase the chance of a Bayern player connecting with it. Also, notice how the three aforementioned players are picked up by three City defenders and Lahm is being picked up by Clichy. This gives the crosser a lot of time on the ball as Clichy cannot go to close him down, Silva has to move across the pitch to do so instead. This system wasn't really working for Bayern as they still hadn't scored  and it did show a bit of a lack of a plan B, despite this, Bayern could have gone one or two up if it wasn't for some great goalkeeping by Joe Hart.
Areas of weakness
A negative of pushing as many players up as possible is obviously being caught out in the transition from attack to defence, especially as the fullbacks are very high up the pitch.
Here, Boateng is forced to shuffle over to the right to fill the gap Rafinha leaves when he goes forward. Man City break and Silva has a large space between Boateng and Benatia to run into. The purchase of Benatia late in the transfer window was explained as a replacement for Javi Martinez after his serious ACL injury he suffered vs BVB in the Super Cup.  However he is clearly a first-team player and is better in most departments than the defensively inept Dante.
Above, Dante is in a good position to get in front of Aguero and shield the ball for Neuer to come and safely collect. Instead of doing this, he engages in a foot-race with Aguero, which he obviously doesn't win as he doesn't have the pace of Boateng, and Aguero gets a shot away. In conclusion, this was one of the better performances from Guardiola's men at this early stage of the season, possibly the best. Despite only winningly narrowly due to a late Boateng strike, the Bavarians registered nine shots on target which is pretty formidable considering they were playing the reigning English champions.
Match 5: Hamburg Away.
Only three days after Wednesday's Champions League clash with City, it was a trip a few hundred miles north to face Hamburg at the Imtech Arena. I'm afraid to say, the after-effects of the midweek game were showing. Bayern still managed to dominate possessionwith an exceptional 70% of the play despite playing a slightly rotated starting XI to the one that lined up in midweek.
Lewandowski, Gotze, Alonso and Benatia were all notable absentees with Hojbjerg, Shaqiri, Pizarro and Dante all brought in to replace them. You could see Bayern's  defensive phase 4-1-4-1 shape immediately, a shape which they take up most often when aiming to press and win the ball high up the pitch.
This 4-1-4-1 is an ideal pressing shape as the lone striker can close down the centre-backs on the ball, the midfield can ensure the Hamburg double pivot has no space to turn if they receive the ball, the Bayern wingers are in a position to make any pass to the full-backs risky, and Lahm is in the space between defence and midfield ensuring Bayern aren't caught out with a ball over/through the midfield into this hole. Bayern failed to create much in the first half so they moved to more of a 4-2-3-1 shape in the second half.
This was presumably to give less attention to pressing and winning the ball back high up the field, and more attention to allowing the double pivot more space and time on the ball to create. Having to players in this deep midfield area meant that Hamburg had to focus on stopping the supply from two players and were more stretched in that area of the field, meaning Lahm and Hojbjerg had more room to work. Bayern still used constant movement to create space.
In the first image we can see Alaba making a run off the ball whilst Bernat is in possession on the wide left. This run initially gives Bernat more time as Alaba pulls away the two players that would usually close Bernat down in this situation. This causes a further two players to get sucked over to the left side of the field to close down Bernat. This leaves Muller in a huge amount of space in the centre of the field, as we can see in the dark box. This is bad defending by Hamburg as four defenders are committed to only two Bayern players but it emphasises how constant movement and runs beyond can cause havoc in a defence, especially one retreating towards its own goal. Bayern always have runners hanging deep to exploit potential space on the edge of the penalty area.
Notice the 3v3 scenario in the penalty area. This forces all defenders to be pushed back, leaving a huge space in front of them that both Muller and Alaba are left in. The ball from the cross is cleared to Muller who mishits the shot. This is yet another way in which space can be created indirectly using overloads in forward areas.
Areas of Weakness
As back-up centre-forwards go, Claudio Pizarro certainly isn't the best in Europe. Bayern created little all match (only one shot on target) and missed Lewandowski's and Gotze's abilities at creating space and linking up play in the opposition's half. This problem of being effective when rotating the squad is a fairly big one and will become more relevant towards the latter stages of the season. This one shot on target was despite achieving 70% possession. Turning possession into goal scoring chances has been a criticism  of Guardiola teams in the past-especially against teams happy to sit back and defend without venturing forward. Dante had his obligatory defensive mishap as his pace was exploited (again) by a Hamburg team whose only hope were balls over the top.
He has a three/four yard head start on Stieber but a ball over the top allows Stieber to run past Dante and register a shot on target. This normally wouldn't be a problem with Neuer at sweeper keeper however Neuer isn't alert to this situation. Playing a high line always comes with a bit of a risk attatched especially how it requires Neuer's perfect positioning and concentration for ninety minutes.
Match 6: Paderborn at Home
No rest for the wicked at Bayern were at home to Paderborn on the Tuesday after the disappointing goalless draw in Hamburg at the Weekend. Bayern used a fairly conventional 4-2-3-1 with Gotze, Robben, Lewandowski, Rode and Alonso all returning to the side with the added motivation of only being allowed to celebrate Oktoberfest if they won.
The 4-2-3-1 was a bit of a move back to basics in a familiar with most players fairly natural position (with the exception of Rode at RB) to steady the ship slightly after their slip up vs Hamburg.
We can see Bayern's slightly stepped double pivot with Lahm slightly ahead of Alonso. Also, Bayern's full backs are extremely high up with Rode at the top of the image on the halfway line and Alaba on the bottom left of the image. This creates a line of five players (the three AMs highlighted+the two fullbacks) which makes it impossible for the Paderborn defence to stay tight to them without leaving space for other players behind. This gives time for players to receive long balls and turn. When they get into the next phase of the build up, higher up the pitch, they still use this width to create space.
In the image above we can see Rode sticking out wide whilst Robben, who's deeper than you would expect, is on the ball. Rode's wide position causes the opposition Left-Back to be drawn towards him. The Paderborn LCB moves over to mark the halfspace vacated by the LB. This then causes a large space between the two CBs for Muller to run into as Lewandowski is pinning the RCB into the centre of the field. Robben plays the ball through to Muller who flicks it back to Gotze to score. This is another example of a wide right overload used by Bayern in penultimate phase of the buildup to create space in the final third. Arjen Robben is on of the best players on the world on the breakaway however he occasionally becomes unstuck when faced with a deep, packed defence. He must find other methods to utilise his pace and dribbling skills.
Above, we can see how he drops deep into his own half during the early buildup stage and collects the ball from the CBs. This allows him to then have space to accelerate into and use his attribute of being able to beat players. In this particular incident, he made a 35-yard run without a Paderborn player even attempting a challenge. Bayern continue to counterpress no matter what the match situation. Here, at 2-0 up they are still trying to immediately win the ball back after losing it.
Robben uses his literally frightening pace to close down the Paderborn defender which forces him to play it to his only safe option which is to his right.
Heinloth is isolated and closed down by Alaba and Gotze whilst Robben blocks off the backward pass. Heinloth is forced to play long and Bayern regain the ball. It's easy to criticise a team that plays a high line but this allows them to press in such a way and have more possession-the constant benefits of doing this outweigh the occasional costs. Bayern's intensity of passing during periods of the second half in this match was something to behold and some of the best I've seen from any side. They continued to work hard despite having comfortably won the match and kept on passing and moving to create space.
Here, Rode receives a long cross-field ball  and cuts in from a wide right area with the ball at feet whilst Robben makes a curved run in the opposite direction. 
This moves the Paderborn defender infield to give lots of space wide for Rode to slip a ball through to Robben who has space to run into and plays it to Gotze for an easy finish. This shows how a long ball can effectively lead to a chance being created and also how Bayern have good movement and fluidity in horizontal lines as well as vertically. Robben is superior to Shaqiri as he offers this sort of movement and also has a better delivery, which he showed when he assisted Muller's goal to round off the scoring at 4-0.
Areas of Weakness
It doesn't take a mathematician to work out that the more players you have high up the pitch, the less you have further back. This obviously causes problems for Bayern.
When Rode is caught high up the pitch when the opposition are on the ball, the three remaining Bayern defenders go very narrow and shuffle over to the side of the ball. This opens up a huge space on the far side of the field and a switch ball causes problems. Pep is obviously keen to develop his players' versatility for various reasons, some of which I have already discussed. This causes problems with players that are playing out of their natural positions.
Here Rode is looking at the ball whilst Ouali makes a dangerous run behind him. This kind of situation isn't an issue when playing in front of the defence however when on the defensive line you have to be careful of everything that gets past you. Despite this, I very much doubt Guardiola would rotate his players to this extent against a better side that has more potential to hurt them. Overall, a very polished performance from the Bavarians with 72% of the possession and twenty shots, but only five of which on target.
Match 7: Koln Away
Next up, Bayern were away to a struggling Koln side. Bayern dominated possession with a staggering 79%, their highest total of the season. They made two changes with Rafinha and Bernat finding their way back into the side with Dante and Rode being left out.
Their basic shape was probably a 4-2-3-1 but as you probably can guess, there were many variations of this at different stages of play and at different times during the match. The first example of this was another display of Alonso dropping back into defence to create a back five in the early buildup stages.
As we can see Alonso drop back here, the rest of the midfield and forwards push way up the pitch, anticipating a long ball forward. Notice three Bayern players inside the red square in between the lines with space to turn if they receive a pass. An aim of Bayern's build up is to get the ball into this square either via a through  ball from Alonso or from one of the fullbacks, who are an easy passing option for the CBs and Alonso. We can also see two players positioned near the Koln RB. This gives more space for a long diagonal ball to Bernat who we can see as LWB and more time if he receives this ball. Alonso is absolutely essential to Bayern, especially in the earlier build up phases. In this match he made 204 touches, a Bundesliga record. A narrow packed defence is obviously difficult to break open. Bayern play with maximum width and forward numbers in attempt to do this.
Here we see Bayern have four players on the last line with Robben slightly out of shot on the right. They also use the full width of the pitch with Bernat at the top of the image on the touchline and Robben pretty much on the line on the right. Also notice Lahm, who is the furthest right of the three players circled and is in the channel between the LCB and LB.
When the ball is spread wide, the LB (Hector) approaches Robben, leaving Lahm in tonnes of space in halfspace. This is an example of width creating space in more central positions. Dante and Benatia came on in the 55th minute for Boateng and Muller. Alaba moved into midfield with Lahm and Alonso. This again shows Bayern's flexibility in positioning and formation. Alonso also dictated the game from higher up at this point with two natural CBs on the pitch. One of the methods Bayern use to try to move from the primary buildup phases into the final phase, and get the ball into the final third, is by short passing amongst the deeper players while the forwards take turns to drop and make themselves an option. If the forward can turn and find another pass forward, they continue to move forwards, if they cannot, they just pass it back to their defensive line, possession is retained, and the process is repeated.
Above we can see Lewandowski dropping to receive a pass from Alonso, who is the furthest back of Bayern players in this image. He is followed tightly by Maroh, Koln's RCB. Alaba is providing a short option for him so instead of having to pass back to Alonso, Lewandwoski can offload to Alaba and Bayern can exploit the large gap left by Maroh which was created by Lewandowski's run. This is a way of getting the ball up the pitch and creating space at the same time. As I have previously mentioned, Bayern chop and change their formation at different times during a match and at different phases of play. Here's an example of Bayern playing a WW or 2-3-2-3:
I found this particularly interesting as, having read Jonathan Wilson's Inverting The Pyramid , I have learned about the history of the WM, a formation that most people should be familiar with. This was first turned into a WW by Marton Bukovi in the 1920s however was most successfully implemented as a Metodo or "method" by Vittorio Pozzo in his 1934 Italian World Cup winning team. The Metodo was similar to Bayern's system today as it relied on the Centromediano which was the defensive regista of the time, in the same role that Alonso plays today. The mediani or wing-backs controlled the wings with the wide forwards being inside forwards, which we can see when we have Bernat, for example, up on the opposition's defensive line while Gotze is in the halfspace. I would say Pep's system has more similarity to Bukovi's system as Bukovi's system was more of a 2-3-1-4 in attack-which is what we have seen of Bayern when they have four players on the last line. Pep also played this at his time at Barca as it is very similar to a 4-3-3 as the two full backs push up level with Busquets, and two midfielders are behind three attackers. I told you this would be worth the read, even at 6906 words in.
Areas of Weakness
As the season started to progress, mistakes were few and far between however there still were some, mostly defensively. Here, Alonso has dropped into the defensive line meaning there is no protection in front of the defense.
In the first picture we can see Matuszczyk making a run into the box unmarked as all the Bayern defenders have dropped off. Alonso doesn't have great awareness or aerial ability in these situations as it is not a part of his natural role on the pitch. He allows Bernat to be sucked in by this run whilst leaving Ujah completely open who shoots straight at Neuer. Aiming a cross at an area of the box conatining a defensive midfielder and a young wing back is always likely to cause problems. I would say that Bayern are vulnerable from aerial situations, especially crosses. Also, the turning possession into chances argument reared its ugly head once again with 78% possession but only 11 shots, 5 of which on target. Despite this, Bayern were never urgent for a goal as they took the lead in the 19th minute and Koln hardly posed a threat. Also, Koln sat so far back that 11 shots in target isn't too bad but it just takes an exceptional performance by a goalkeeper to result in all five of the shots on target being kept out, rather than two being let in-as was the case in Bayern's 2-0 victory here.
 Match 8-CSKA Moscow Away
Bayern resumed their Champions League campaign in front of an empty stadium in Moscow. This wasn't an easy task whatsoever on paper, and so it proved. Pep didn't make too many surprises with his starting lineup however I was shocked to see Boateng omitted from the XI as his pace would have saved Bayern a lot of hassle. More on that later on. Here's the lineup:
Despite being away from home in the Champions League against a five-man defence, the same principles still were still adopted.
Above we can see yet another example of a number of Bayern players lined up horizontally in between the lines. In the square we can see a 4 vs 2 situation set up on the left side of the pitch. This is allowed to happen because of Lahm's far forward and wide position. These overloads make it easier to get beyond the defensive line with clever link up play. Despite this, Bayern struggled to create many significant chances throughout the match. Alonso was playing as a single pivot at times as Bayern didn't really need more than one holding midfielder as CSKA were happy to sit back.
Above, we can see the benefits of Alonso's deeper position in the midfield. A CSKA midfielder is drawn out of his position to close down Alonso, leaving a large, dangerous gap in the halfspace. Said halfspace is a key area for bayern-not only in attempting to find gaps between centre-backs and full-backs (this is made more difficult facing a five-man flat defence) but to get the ball to creative midfielders in this area to turn to face the final line of defence.
Above, we can see two different examples, both from the same half where Gotze recieves the ball in this in-between the lines, halfspace area. Both times he has an option to his right, Robben, and to the left, Muller-with Lewandowski always occupying the CBs in the middle of the field. This obviously allows for quick options to break through the defensive line with quick, short passes. Also, notice how Gotze doesn't position himself perpendicular to any opposition player. This is to give him extra space and time explained below using Pythagoras' theorem.
Above, @AdinOsmanbasic (very good tactical blogger) shows us how a player in, using his term, a 'mixed position' has a greater distance between him and any opposition player than he would if he was positioned in a vertical or horizontal line near a player. This extra 2.1m is key with the pace of modern football, especially in the Bundesliga. It also means that if an opposition defender were to decide to get behind the Bayern player to press them, they would be moving out of their vertical AND horizontal line, creating larger gaps, and causing more havoc. The man in the half space recieving the ball is what I'd call the third of Bayern's four buildup stages. To be able to reach this stage they need to firstly, successfully move the ball from Neuer to the defensive line, or from the opposition losing the ball to the defensive line. Below is stage two, in between the defensive line receiving the ball, and the ball being with a playmaker in the final third. To be able to create anything in the final third, they need to get there first.
Above, we can see Bayern in a 3-2-4-1 shape as Alaba has dropped from Midfield into the 3 whilst Bernat has pushed up into the attacking midfield 4, ahead of Lahm, who has interestingly taken up a halfspace position instead of being on the outside, and Alonso. The image shows the second build up phase from Dante, to Alaba (who has dropped to create a middle man between Dante and Bernat), and then onto Bernat on the wide left high up the field. Because of CSKA's naturally narrow midfield, Bayern have managed to get only one simple pass away from Gotze (who we can again see above in the middle of a square of red shirts in the left halfspace). Simple maths dictates that the greater amount of times the ball is played into that area to somebody like Gotze, the more chances will be created, and goals scored. The final buildup phase is getting a shooting opportunity, preferably one from close range inside the penalty area.  This is done by not only getting the ball to a creative player such as Gotze, but giving him as much space and time as possible. I have already showed how he gets space using halfspaces but below is another example of an overload, another way in which a player can find space in the final third.
Above we can see the second buildup phase once again, but higher up the pitch with Dante on the ball and Alaba between him and Bernat. Bernat is stationed wide out left on the touchline. A quick switch from one side of the pitch to the other has not allowed the CSKA defence to shuffle along which leaves Fernandez, the CSKA RB with two men to mark. The best he can do is stand somewhere in between them which leaves both of them open. Gotze is just as responsible for making space for others in this build up phase down the let hand side as others are making space for him.
Bernat moves into Gotze's area of the field but as soon as the ball is played to Dante, this is the trigger for Gotze to move infield. This creates a 3 vs two overload with Lewandowski, Gotze and Bernat with only two CSKA defenders to mark them.
Bernat has three possible forward passing channels and plenty of time to make up his mind. A (Bizarre) criticism of Pep's Barcelona was that at times they were slow and passing for the sake of it and many people feared he would turn Bayern into a slow, monotonous, passing team and they would lose their dynamic football that won them the 2013 Champions League under Jupp Heynckes. Bayern again showed that they are not one-dimensional and have still retained that side to their play.
Here, we see a pass missing out the midfield completely-straight from Dante to Lewandowski who is perfect for Bayern as he not only has better finishing and pace than Mandzukic but still has the hold-up and link up play that the Croatian was chosen for. 
Bayern are like a preying mantis as they snap into action when they can see a vulnerability. They get three men ahead of Lewandowski to create a 3v3 situation and Muller on the wide left stretches these three CSKA defenders further. I like to think of Gotze as being Bayern's go-to guy when trying to unlock a packed defence with patient build-up play, Robben being their man for these quick transitions, and Muller as being something in between, but he's just as important if not more than the other two.
Arjen Robben is obviously one of the finest attackers on the planet however his presence in the defensive phase is underrated.
Robben's frightening pace makes him a good presser, here he charges at Berezoutski who receives the ball facing his own goal-a classic pressing trigger. In the image we can see the position of three Bayern players that cut off the CSKA's player's options.
Berezoutski manages to wriggle out of Robbens press to find Schenikov who is immediately met by Lahm. In the image above we can see just how tight each Bayern player is to their man. Man-to-man pressing at its finest.
The next image pretty much sums up Bayern's attacking play, positional fluidity, width, and halfspace penetration.
Robben moves over into Centre-forward position as the ball reaches Lahm on the wide right. This leaves the halfspace empty for Muller to run into. Classic Bayern.
Areas of Weakness
This was only a narrow win for Bayern and they certainly showed some vulnerability. Firstly, an obvious negative of piling so many men forward in attack is being hurt on the counter. This was the case many times as, credit to CSKA, they did counter effectively a few times-especially through Musa. This showed how pace on the counter can hurt Bayern which is definitely one area they need to tighten up in.
Alonso is arguably Bayern's most important player. He has been exceptional so far this season but there is a flipside of being so reliant on a 33-year-old, especially as their only real regista-type midfielder.
CSKA win the ball just inside their won half and play a long ball forward, which is headed back by Benatia. However, it is headed straight back to a red shirt in space as Alonso has not been able to make his way back as the CSKA players are making their way up the pitch at speed. Alonso is clearly only a medium term solution for Bayern in this role and Thiago Alcantara is Guardiola's long-term hope for this position.
Match 9: Hannover at Home.
There were no signs of a European Hannover effect (yes, that was intentional) as Die Rote romped to a 4-0 victory. Guardiola gave Muller and Gotze a much deserved rest as Shaqiri and Rafinha came into the starting line up.
Bayern's formation is pretty much a 5-2-2-1 without the ball but a 2-1-4-3 with it as the wing-backs push up and Alaba moves into midfield.
Above we can see the Alonso-Lahm defensive phase stepped double pivot in action. Alonso is deep, covering space while Lahm is pressing. In this particular incident, Lahm won the ball through pressing and sets up Robben to give Bayern the lead. If his press had been unsuccessful, Alonso still would have been there to protect the defence-this shows the advantages of the double pivot over just Alonso alone.
You often hear pundits talking about players "dictating the play"  or something similar and this is exactly what Alonso does.
At this stage, Alonso is collecting the ball from the Centre-backs and feeding it back to them, occasionally passing to a full-back. This is just to draw Hannover players out and make sure Bayern are ready to take the ball up the pitch.
Alonso signals it's time to go, Rafinha and Bernat push up and they move into stage two of the buildup. Everything revolves around him.
Bayern are just as well drilled without the ball as they are with it.
The ball is with Albornoz, the Hannover left back. Rafinha rushes forward to put pressure on him to react quick while the rest move in. Lewandowski moves back, covering one option, Lahm moves across, to block them man Rafinha has left and Shaqiri comes across to create a trap on Schmiedebach, in the centre of the Bayern players.
The ball is played to Albornoz's only option, Schmiedebach. The trap is successful as Lahm tackles Schmiedebach, Bayern ball.
We got a rare chance to see Die Rote with two centre-forwards on the pitch as Claudio Pizarro came on to join Lewandowski up front.
Here, we see Lewandowski on Marcelo, the RCB, discouraging him from shuffling across. A Pizarro decoy run beyond Robben peels away Felipe which leaves the space in the centre for Robben to cut into.
Robben performs his infamous cut inside onto his left foot and has the whole goal to aim at. Great example of creation of space in the final third.
Bayern once again showed tactical flexibility in the second half as they went to 3-4-3 to have a numerical advantage of 3 CBs vs 2 Hannover forwards. Also, they had 3 forwards vs 3 Hannover centre-backs to create space as seen above.
Areas of Weakness
Back to pressing now and we've seen how effective it can be when it comes off however when it doesn't go right it can cause big problems.
Because of Bayern's 5-at-the-back in this match they were overloaded in midfield and this meant Alonso on occasion had to come out of his position to press the ball. This is a very risky tactic as, like Busquets for Pep's Barca side, Alonso constantly filling 'the hole' is vital to the system. Here, he presses but Hannover manage to escape the press.
Above we can see the gap left by Alonso's failed press. Hannover find themselves with the ball in this dangerous area and can slide in a through ball. the Bavarians are lucky not to be punished on this occasion.
Overall however this was Bayern's most emphatic win of the season to date and they did this with only (yes,only) 68% possession which is lower than average for this side. It also demonstrated their great squad depth as they did this on the back of a win in chilly Moscow just a few days earlier.
Match 10-Werder Bremen at home
Bayern players returned from their respective international teams after the break to face Werder Bremen at the Allianz. Lewandowski was rested and Pierre-Emil Hojbjerg was given a chance against an under-performing Werder Bremen team.
Guardiola must have rested Lewandowski with their Champions League trip to Rome coming up in the week. Despite this, he still named a very strong XI. Possibly too strong as Bayern won 6-0 with 72% of the possession.
Long balls forward are regarded as a waste of possession, especially vs a deep defence however it can be worth the risk if you have the confidence in your pressing to win it back.
An attempted long ball from Alonso to Muller (they didn't really have this long, accurate pass option last season) is cut out by Fritz and falls to Bartels who is facing his own goal. Hojbjerg and Alaba press immediately.
Instead of tackling Bartels, Alaba goes to cut off Fritz as Gotze comes in for a secondary press and to stop a switch of play. Bartels is forced to play a ball into nowhere and Bayern win the ball in a dangerous area.
Alaba has been played in a variety of positions for Pep but I believe that he is still best in his original left-back position. This is mainly due to his attacking ability in wide areas when he overlaps.
Here, he has received the ball from Hojbjerg and is in lots of space due to his wide position against a fairly narrow 4-man defence. Gotze is in a tricky position for the defence as it stops Fritz from coming over to meet Alaba. Alaba has loads of time to cross to Muller.
At half-time, Alaba made way for Bayern's first-choice left-back this season, Juan Bernat. Bernat showed he was just as effective at offering attacking threat.
The red area circled is seen as a key area for an attacking full-back to get into with the ball as it is probably the best position for a simple cross and finish. Jordi Alba is a specialist at finding himself in that position with the ball to find Messi, Suarez et al for an easy finish.
An obvious feature of attacking football, is getting as many men as far forward as possible. Pep uses players such as Lahm and Alaba to his advantage as they ensure defensive solidity in the midfield but also can use themselves effectively in the final third.
Lahm plays the ball to Muller and continues his run into the halfspace which is left vacated as Garcia, Wolfsburg's LB, goes to close down Muller.
The ball is returned to Lahm inside the 18-yard area where he plays a one-two with Shaqiri and should score. This Vidal-esque run from Lahm shows Guardiola's ability at looking at a player's talents and then forming his own decision on the role in which that players should be played instead of merely playing them in their favoured position. This is a trait that shows us why Guardiola was such a successful youth coach at Barcelona B.
The key to winning games is scoring and not conceding, the way to do this is to have more of the ball. We have already seen how Bayern counterpress to win the ball back after losing it, they also use positional play to make sure they recoup the ball after any attempted clearance.
As Bayern venture into the Wolfsburg 18-yard area looking for an opening we can see Gotze, Rafinha, and Lahm on the edge of the area waiting for the ball if it is cleared or one of the forwards look for an option. On this occassion, the ball is cleared to Gotze who has space to shoot and score.
Overall, this was a pretty faultless performance from the Bavarians. 6-0, 72% of the ball, and not a single shot on target conceded. It couldn't get any better for them. Or could it?
Match 11-Away at Roma.
A different sort of test. One could have argued that Bayern's success was due to them facing Bundesliga opposition with no intent to get anything from the match, just sitting back and failing to contain Bayern's attacking talents. A trip south to Italy to face a Roma side who were 2nd in Serie A seemed like their biggest test since facing Real Madrid in last season's Champions League semi-final. Would Totti's experience help him to out-think Bayern's defence? Would the pace of Gervinho and Iturbe exploit space behind Bayern's attacking full-backs? Would the hard-tackling De Rossi stifle the creativity of Gotze and Muller?
As you probably know,  that wasn't the case. The difference between Guardiola and Mourinho is the messages Mourinho sends out to opposition in press conferences, Guardiola does so on the pitch.
Bayern started with what I would say is their strongest eleven players in a 3-2-3-2 while Roma continued with their 4-3-3 with Totti at false nine.
Everything about this Bayern performance was a treat as they lined up in a 3-2-3-2 or M and M.
Bayern, here playing from left to right, have two flat lines of three with a stepped double pivot of Alonso and Lahm and Lewandowski playing slightly in front of Muller up top. The back 3 seemed risky as the pace of Iturbe and Gervinho, plus the guile of Totti could hurt them in a 3 vs 3 situation. Playing eith 3 CBs allowed Bayern to get width through Bernat and Robben without them having to worry about defensive duties whilst also allowing Alonso to be able to create a bit higher up the pitch as he doesn't have to sit between the centre-backs and risked being pressed by Totti.
Roma didn't have any midfielders or forwards over 6ft in the team so have a tendency to try to pass it out of the back. Pep used this to his advantage.
De Sanctis plays it out and Bayern press 4 vs 4 which completely isolates the Roma midfield. Roma have no choice to pass it back to the 'keeper who has to launch it upfield and the ball finds its way back to a white shirt. Possession regained for Bayern.
Fußball sounds similar to Foosball and that's what Bayern's rigid structure in this match reminded me of.
The defensive and attacking midfield three stay in more-or-less the same positions whilst the two of Alonso & Lahm, and Muller & Lewandowski moves across to the side of the ball in the defensive phase in attempt to box in the Roma player and overload the area.
Bayern made sure that they allowed Totti, and Roma in general as little space as possible by being very tight and narrow at the back.
This narrowness forces Roma to go wide in attack, which makes it easier for Bayern to press them and win the ball back as Guardiola claims "the sideline is the best defender in the world" as it cuts out 180 degrees of a player's possible area to play into.
When Roma got into controlled possession and their full-backs pushed up Robben and Bernat dropped to make it a back five.
This extra width prevents Bayern from being hurt by a quick switch crossfield. Credit to Robben as it is very unlikely as players such as Ronaldo or Messi would fill in like this if given this role.
Arjen Robben is more famed for his attacking prowess and this terrifies opposition. Pep used this to his benefit.
Rudi Garcia chose to play Cole over the more pacy Holebas seemingly because of Cole's fantastic record against top-class wingers in his Chelsea, Arsenal and England days-not least versus Robben in the 2012 Champions League final. He has obviously been given an instruction not to lose Robben and therefore, as seen above, he stays out of the defensive line to make sure he is a sensible distance away from Robben. Robben is clearly deliberately sitting deep on this occassion as it would pull Cole out of position to create a 2v1 situation in Bayern's favour on Yanga-Mbiwa.
Despite the 7-1 final score, Roma did trouble Bayern a couple of times. Firstly, as predicted, their width through full-backs vs a 3-man Bayern defense caused problems.
Here we can see Bayern in a bit of a defensive mess as they are running back towards their own goal during a Roma break. Roma's width allows them space and time on the ball. In this occassion, Bayern's tightness and rigidity in defence pays dividends as they are not pulled all over the place by the wingers or Totti's movement (nearest red arrow). Their compactness helps them see off the danger when an atttempted pass to Gervinho in the centre is played.
Still within the first ten minutes of the match, Bayern lacked sharpness. The pressing they experienced was unlike any they had faced so far in the Bundesliga.
Yanga-Mbiwa comes all the way up to stay tight to Muller, not allowing him to turn and set up a potentially lethal Bayern counter. He tackles an unsuspecting Muller and wins the ball.
This loss in possession results in Yanga-Mbiwa having the ball in what they would call a 'triple threat' position in Basketball. He can pass, shoot, or carry on dribbling. This is extremely dangerous as sitting off Yanga-Mbiwa would invite pressure and cause the defence to retreat into their own area whilst going to close him down would leave gaps in the back four (Alonso has slipped in between Boateng and Alaba).
This is exactly what happens as Boateng goes to Yanga-Mbiwa, and leaves a space behind him for Gervinho to run into behind a sleeping Alonso. Gervinho's shot is saved by Neuer but a more clinical forward would have made Bayern pay for their mistake. It is clear that Bayern's attack-to-defence transition needs working on.
Again, Cole's  positioning is affected. This time by Muller.
Muller pins Cole wide whilst Lahm runs into the open halfspace that is created. Nothing new here. Notice how Gotze and Robben are unmarked at the top of the picture. This is to potentially create an overload if the ball is switched.
Bayern continued to press Roma, and it continued to work.
 As soon as the ball is played to Yanga-Mbiwa, Muller goes to close him down, blocking off passes to De Rossi and Manolas whilst other Bayern players offer secondary pressure on Roma players.
As the ball is played to Nainggolan, Lahm and Muller use a pincer pressing movement to strip him of the ball. This is actually a rare type of pressing for this area of the pitch as it is used employed on players on the sidelines by teams such as Simeone's Atletico Madrid and Schmidt's Bayer Leverkusen.
The ball is taken from Nainggolan and Bayern are in a great position and should capitalise on this well orchestrated recoupment of the ball.
Bayern's second goal started a flurry of goals that made 1-0, 5-0 within just twelve minutes. Gotze showed he isn't just about passing as he scored whilst running at the defence.
Gotze runs at the Roma defence. As soon as Manolas and De Rossi step up to meet him, Muller makes a diagonal run in behind them whilst remaining onside.
He plays a one-two with Muller and then carries the ball into the space Muller has created before shooting and scoring. One could describe this as liquid football.
Then the flood gates opened. The quick succession of four goals in thirteen minutes reminded me of the last time a German team won 7-1 vs the home side.
Roma's biggest mistake was giving Alonso as much space as they did.
Alonso is shown here in oceans of space and can slide a ball through to Bernat who plays a simple cross for Lewandowski to make it three. He is completely open as Roma's 4-3-3 doesn't accommodate a man to stay tight to deep lying midfielders. Roma should have played a trequartista not only to limit Alonso's space but also to act as a hook between defence and attack in transition as Roma were often sloppy in initiating attacks.
The key to getting the ball from short passing between the back three and Alonso, to the final third of the pitch is clever movement by the attacking players.
Here, Alaba has the ball and is looking for options. Gotze actually runs away from the ball and swaps places with Lewandowski, leaving both players in space to receive the ball.
Lewandowski is totally unmarked and is free to turn and run.
As Lewandowski makes his run infield, Nainggolan is in totally the wrong position, Roma have given up. Lewandowski plays a ball straight through where Nainggolan should be to Robben who isn't picked up by any Roma player. 4-0 to the German champions.
Roma still haven't done anything to solve their problems as Alonso is still allowed as much time and space as he wishes.
There is more clever movement as Alaba takes Torisidis deep to make space for Bernat.
As Bernat receives the ball from Alonso he has loads of space. This causes Torisidis to turn his attention towards Bernat whilst Alaba makes a run behind Torisidis or is now otherwise occupied. Bernat plays a simple ball through to Alaba who crosses only for the cross to be handled by a Roma defender and a penalty awarded to Bayern. Thomas Muller converts the spot kick with ease to send Bayern into halftime five goals to the good.
 Areas of Weakness
Playing such a good team will inevitably mean that you are tested. Bayern were hardly tested at all when they were trying to score however Roma did cause Bayern's defence a few problems. This section, along with the analysis of the Borussia Monchengladbach fixture coming up next, shows that Bayern can be vulnerable and have some flaws.
Firstly, as predicted, their width through full-backs vs a 3-man Bayern defense caused problems.
Here we can see Bayern in a bit of a defensive mess as they are running back towards their own goal during a Roma break. Roma's width allows them space and time on the ball. In this occassion, Bayern's tightness and rigidity in defence pays dividends as they are not pulled all over the place by the wingers or Totti's movement (nearest red arrow). Their compactness helps them see off the danger when an atttempted pass to Gervinho in the centre is played.
Still within the first ten minutes of the match, Bayern lacked sharpness. The pressing they experienced was unlike any they had faced so far in the Bundesliga.
Yanga-Mbiwa comes all the way up to stay tight to Muller, not allowing him to turn and set up a potentially lethal Bayern counter. He tackles an unsuspecting Muller and wins the ball.
This loss in possession results in Yanga-Mbiwa having the ball in what they would call a 'triple threat' position in Basketball. He can pass, shoot, or carry on dribbling. This is extremely dangerous as sitting off Yanga-Mbiwa would invite pressure and cause the defence to retreat into their own area whilst going to close him down would leave gaps in the back four (Alonso has slipped in between Boateng and Alaba).
This is exactly what happens as Boateng goes to Yanga-Mbiwa, and leaves a space behind him for Gervinho to run into behind a sleeping Alonso. Gervinho's shot is saved by Neuer but a more clinical forward would have made Bayern pay for their mistake. It is clear that Bayern's attack-to-defence transition needs working on.
Bayern's three-man defence continued to give Roma space in wide areas as Pep decided to stick with it despite being 5-0 up at half time.
In this instance Bayern manage to shuffle across quickly and win the ball back because of a slow Pjanic pass. Teams that like to switch play from side to side at pace could definitely exploit this vulnerability.
Bayern's biggest problem previously has been dealing with pace and this was no different against Roma.
Boateng is sleeping and a long ball gives Gervinho space to run into and use his pace. Bayern haven't learnt their lessons from the CSKA match when Musa hurt them in this way. Pep doesn't seem as keen on Neuer rushing out to clear the ball as much as Lowe asked him to in the World Cup. Boateng does a fantastic job to get back on terms with Gervinho and put him off enough to force him to hit the post. If this was any other defender that Gervinho had gotten the other side of, it would surely have been a goal. This is definitely an area that Bayern need to address as they were ripped apart by Real Madrid's pace last season and even Danny Welbeck caused them a few issues in their quarter-final tie against Manchester United.
Another long diagonal ball is played by Roma, and it continues to trouble Bayern.
This time the ball is played to Florenzi over Bernat, whose lack of height and susceptibility to switch off can make him a target for opposition attackers. He is still young and has a lot to learn and the better he can tighten up his defensive game the better as his being a full-back in this day and age is as hard as it has ever been with not only the expectation of being able to attack, but with wingers such as Ronaldo, Neymar, Robben, Messi (sometimes) and Gareth Bale at the top of their game. Anyway, this Pjanic ball to Florenzi shouldn't really be able to be played in the first place as Bayern's normal pressing wouldn't allow this. They've cleared slacked off on the pressing a bit which could cause problems but they're 5-0 up so who can really blame them?
Bayern continued to take it easy and even lost their ball in their own half, something that would later prove costly against Manchester City.
Alonso doesn't have the pace to keep up with Gervinho as Iturbe and Nainggolan create a 2 vs 1 vs Benatia. Nainggolan crosses for Gervinho who heads in for a consolation goal.
Overall, this was pretty much as good as it gets. 7-1 away to one of Europe's best sides is formidable. Surely this would set the precedent for the rest of the season and Bayern would continue to sweep through Bundesliga opponents with ease?
Match 12-Borussia Monchengladbach away.
Bayern couldn't get complacent as they has to travel to play a Gladbach side that had won three on the bounce (this is good form for normal teams).  This turned out to be a masterclass on how to stop this mighty Bayern team. Bayern's future opponents take note.
Despite having already played Roma in the week, Guardiola only made two changes in personnel as Dante and Rafinha replaced Boateng and Robben.
It was alos back to Bayern's old system with two centre-backs, Alonso dropping in between them, Alaba moving from a third CB at times in the defensive phase to an attacking midfielder in Bayern possession, and Muller and Gotze creating space around Lewandowski.
Monchengladbach sit back against Bayern using a simple two banks of four.
As well as the two banks of four we can see Xhaka always blocking the halfspace, restricting any potential Lahm runs into this area. Gladbach have seen this danger and stopped it.  Xhaka covering this halfspace also means that Alvaro doesn't have to stay too tight to his LB, Wendt. This means they can cover the danger area in the middle of the 18-yard box effectively and prevent any Muller diagonal runs to the near post. Also, notice Raffael's positioning just ahead of the midfield that will allow his to initiate a counter attack by acting as a hook between defence and attack.
Gladbach used a long ball forward effectively. Not necessarily over the top of the defence but long enough for the defence to head back, hopefully to a Gladbach player.
Gladbach fill the area of the pitch the ball has fallen into which causes Bayern's lack of defenders problems. Also notice the Borussia forward at the top of the picture who is preventting Bayern's defence to be as narrow as they were vs Roma. 
Alonso and Bernat are sucked into the little triangle shown in the first picture but having so many close options allows Gladbach to wriggle out of the press, leaving Kruse and Hahn in huge amounts of space in between the lines. 
Kruse plays the ball wide to Hahn who then puts in a dangerous cross that Bayern manage to clear.
Gladbach had obviously studied Bayern in great detail as they had a solution for almost everything the Bavarians did. We have seen how effective Bayern's halfspace overloads can be, but again Xhaka shuts the opportunity down.
Xhaka drops to stop the overload whilst Raffael moves back to Xhaka's position in the midfield four and Kruse drops back to Raffael's enganche (hook) position. Blocking the channel in this way made Bayern a lot less productive.
Here's Xhaka doing exactly the same thing on the other side of the pitch. In Kramer and Xhaka, Borussia Monchengladbach have one of the strongest and most underrated double pivots in Europe.
Bayern continued to be susceptible to the odd counter attack.
Kruse drops deep into his own half to pick it up and lay it off to Hahn.
Bernat and Benatia are the only players who can keep up with the BM attack and a 3 vs 2 situation is caused. This is an obvious negative of playing Dante over Boateng as Bayern missed Boateng's pace here.
Monchengladbach stopped Bayern breaking into their penalty area by putting extreme pressure on anything on the edge of their area. 
When the ball is played to Gotze, Bayern's main advanced playmaker, three players surround him. This includes Korb who moves out of his RB zone to press Gotze. Xhaka notices this and covers Korb immediately. This shows great defensive organisation.
Even Bayern's pressing didn't go very well for them.
Alonso takes part in some counterpressing quite high up the pitch on Kramer but unfortunately for Bayern, Kramer manages to wriggle out of the press and play a ball forward. Notice the huge gap that has been vacated as Alonso leaves his position.
The veteran midfielder does not have the pace to make it back and a Bayern are 3 versus 3 at the back. BM manage to register a shot on target through Herrman as a result of this.
Bayern persisted and did manage to find a few gaps and create some chances due to clever movement.
Bayern try to find space in between the lines but guess what? Xhaka's there, circled white above, he is tracking Gotze closely. Gotze uses this to his advantage, dragging Xhaka onto the defensive line to create space in a central area.
Muller drops into this large space to pick up the ball. This showed how as soon as Bayern neutralised Xhaka, they found some joy. With so many men on the last line, it is difficult for BM to press Muller now without leaving gaps.
Monchengladbach remained very narrow in defence throughout the match which is a key feature of any highly defensive performance in football.
This extremely narrow block is unaffected by the width of Ribery and Bernat on each wing. This is to make sure no players can get into the channel between fullback and centre-back as we have previously seen how devastating this can be.
As the ball is played to Ribery, Wendt goes to close him down and BM midfielders go to close the halfspace that Wendt leaves deserted.
One thing which is vital when playing with three centre-backs is a solid defensive midfielder in front of them. Bayern are lucky to have this in Alonso but any lapse of concentration on his part could prove costly.
He is caught out of position again and the same gap in front of the defence is left unmanned. Once again BM get a shot on goal after Alonso being caught out of position.
Another thing Bayern need to be careful of is playing players outside of their natural position. Although the versatility and flexibility of their squad is to be admired, sometimes players being subject to things unfamiliar to them can cause problems.
Alaba is in  the middle of the back three here and Benatia has to push wide to mark Raffael. Alaba fails to recognise this and shuffle across therefore allowing a long ball to find the unmarked man that has run in between him and Benatia.
This was a disappointing result for Bayern and it was a surprising one as Bayern had only failed to score once previously in all competitions all season. Bayern addressed the issues they faced and went back to winning ways however I chose this as the last match that I included in this tactical profile as it showed the Bayern machine can occasionally get jammed.
Set Pieces
I couldn't properly call this a full look at Bayern's play without including some of their set pieces-the root of over a third of goals in football.
Firstly, Gotze hangs back on the edge of the area at a Bayern free-kick as he does not have the height to challenge aerially.
Gotze pounces on the ball when it falls to him and strikes to give Bayern the lead. An example of how Pep uses shorter players effectively at set pieces-something he was forced to learn to do at Barca.
Secondly, an attacking corner for Bayern against Manchester City.
Dante, the furthest left of the Bayern players shown is being picked up by Sagna.
As the free kick is about to be taken, he takes four or five steps backwards and is free. Sagna is ball watching. A better ball and Bayern could have used this to their advantage.
Thirdly, Bayern defending a corner.
In almost every opposition corner I've seen, Bayern line up in a 5-3 zonal formation. The back five are much more zonal however and the front three pick up the three attacking players pretty much man for man. This reaps the benefits of both zonal and man marking from set pieces. Also, notice Gotze on the edge of the Area whose job it is to pick up any extra runners into the box. Robben, slightly wide of centre on the edge of the area is not only watching the short option and preventing the man on the edge of the box from getting a potential shooting opportunity if the ball is cleared to him, but is also an outlet for if Bayern plan to attack quickly if they win the ball. This corner set up has worked pretty effectively for Bayern this season and they haven't experienced any trouble defending corners from what I have seen.
Finally, a classic free-kick scenario where there is a group of players surrounding the ball in a dangerous shooting area.
Alaba and Muller both run over the ball. This has the desired effect as the wall is broken and jumping by the time Alonso can roll it under the wall and score.
Conclusion
This story of twelve Bayern matches showed the magnificent things they can do when all the hours of preparation on the training ground and in team talks come together in a match situation. My only hope is that no matter how much of it you read, you take away from this what a fantastic coach Pep Guardiola is, what a bunch of talented individuals he has at his disposal, each individual step on the pitch towards achieving greatness, and maybe even what things can be done to have a hope of containing them. My favourite Pep Guardiola quote is "Changing the answer is evolution, but changing the question is revolution". I truly believe that Pep Guardiola is changing all the questions and revolutionising modern football.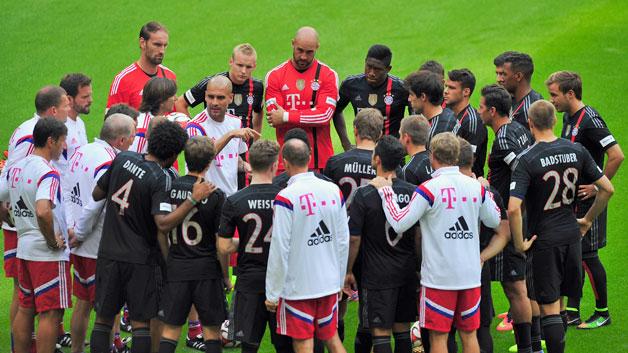 Thank you very much for reading! If you enjoyed it don't forget to share! I would really like to know what you thought of this article so please put any comments, questions or points for discussion below. Don't forget to follow the blog on twitter- @flyingwingback. Once again, Thank you.